AREA 51 COSTUME CONTEST
MILKYWAY STAGE OAK AVENUE SPRUCE PINE

JOIN US AT THE AREA 51 COSTUME CONTEST an event for all ages!  Participate in plenty of Activities at the Spruce Pine Alien Festival! Dress like your favorite Alien, Monster or TV Character and win prize Money.
Enjoy a fun filled day shopping for unique Alien Merchandise and local Arts & Crafts. Be sure to bring a lawn chair and pull up your spot in front of the Milkway stage and listen to all the Free Music.
The Alien Festival activities also include an interactive younger Children's Space area located in the town's pocket park grass area on lower street.  Visit the Alien fun zone where Children of all ages will be having a fantastic day in the festival Bounce Houses and Giant Slides located along the Festival on Oak avenue! Have a Blast meeting the Alien Speakers and taking family photos at our Area 51 Space Backdrops. Get beamed up by a Spaceship.
PURCHASE TICKETS TO THE EARTH TO SKY PARK OBSERVATORY & PLANETARIUM AT THE ALIEN FESTIVAL
An International Dark Sky Park and is one of only two in the world that operates as an observatory and a planetarium!
Observe Stars, Galaxies and planets!
June 10th 9:30pm – 10:30pm -or- June 10th 11:00pm – midnight
In the event of rain or clouds, the event will be moved into the Arthur        Planetarium. 
66 Energy Exchange Dr, Burnsville, NC
Burnsville, NC 28714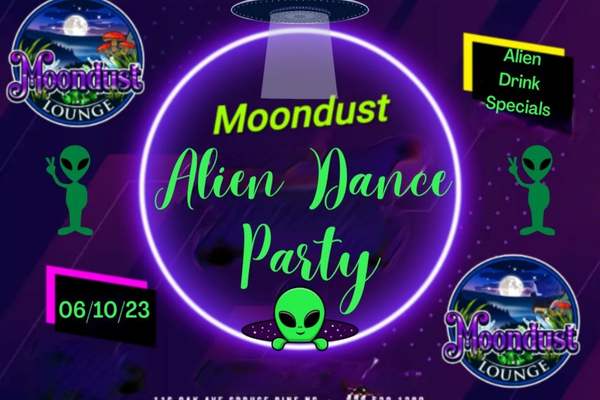 MOONDUST LOUNGE DANCE PARTY JUNE 10TH
Moondust Lounge in downtown Spruce pine is be hosting a Cosmic Alien Dance Party that is FREE to attend. Grab yourself a local draft or special alien cocktail and mingle with fellow UFO enthusiasts. The party will be decorated with alien and outer space decor while DJ Sparkplug plays dance music late into the night. All ages are encouraged and welcome to attend! The bar is open all day and the dance party will go from 6pm-1am. Don't miss this Cosmic party and dance the night away! The Moondust Dance Party is being hosted at 116 Oak Avenue. Call for more info after 6pm at (828) 520-1281
We've partnered with local businesses and organizations to offer fun and learning for voyagers of all ages. Be sure to check out the Space Capsules (booths) at the Spruce Pine Alien Festival for more information during the event or to secure tickets.